I started Solidarity Coaching and Counselling because I wanted to find a better way to help young men facing mental health challenges.
counselling with boys
My first interaction trying to counsel a young man was the seed that planted solidarity. As a social work student, I was working with children and youth who were struggling with their mental health. The first session I had went horribly. I foolishly tried to explain to an 8-year-old boy how emotions work using an unnecessarily complex diagram and far too many words.
My practicum supervisor assured me that I hadn't wrecked this boy's life and that over time I would become more skillful. This experience lit a fire under me to become better at working with boys. As I was conducting research on ways to help them I stumbled upon a book called "How Do I Help Him?" by Michael Gurian that opened my eyes to the silent crisis of male depression and suicide.
the silent crisis of male suicide
I discovered that all over the world male suicide rates are soaring. In fact, in Canada where I live men kill themselves at 3 times the rate of women. Sadly, in the province of British Columbia during the peak of the opioid crisis, men were dying by overdose at 4 times the rate of women. I was stunned when I heard these statistics.
Why hadn't I learned about this before? What was the cause of the poor outcomes for boys and men's mental, and physical health? I started to read every book I could on the topic such as The Boys Crisis, Saving Ours Sons, and Boys Adrift. I learned that many of our systems are not well designed for the needs of boys.
Engaging young men
Fast forward 18 months later and I'm still working with children and youth. Thankfully, I've become better at working with boys. But I was still frustrated by the fact that no matter how good I am, many boys would never be open to counselling in the first place. At this point, I had a new burning question I needed to find the answer to.
How do you get young men to engage with mental health services?
In my wanderings online I came across Dr. Simon Rice, one of the world's leading researchers on the issue of male depression and suicide. I read his article on how mental health systems are failing young men and what we can do to fix it.
His findings showed that male adolescents aren't accessing health services in general. To resolve this dilemma, Dr. Rice recommended creating new targeted interventions at reaching these boys where they were within the school system.
So I designed a program that combined Brazilian Jiu Jitsu with mental health literacy. The aim was to use physical activity and teaching self-defense to engage boys. My goals were to increase awareness of mental health and breakdown negative attitudes towards seeking help.
I visited the school near my work place and got the green light from the principal. I even chatted with a teacher and counsellor who were excited about my idea and knew exactly the type of boys they were going to encourage to go.
barriers to new interventions
I wrote a 22 page report detailing the rationale for the intervention, the research supporting it, and a risk mitigation plan. My boss supported it, and my boss's boss supported it, but it went nowhere.
It got passed around in bureaucratic purgatory for month after month. No-one seemed to know who had the final authority to give me a solid 'yes' or 'no'. Then COVID-19 hit which was the last nail in the coffin.
That's when I realized why the mental health system was failing men. Our mental health systems aren't well equipped to innovate new ways that may be necessary to reach boys and men. Innovation requires risk, which is not something large organizations have much of an appetite for.
At that moment I knew that if I wanted to try new ways to help young men I would have to do it on my own.
how can i serve young men?
From that moment on I started planning to launch my own private practice. This would give me the freedom to create mental health services that were attractive to young men. I had a new question. How can I design my practice to be uniquely suited to the needs of young men?
Through this process, I prayed to God asking him what I should do. Then, one night while praying I saw a picture in my mind. It was a valley covered in darkness, with little dots of light scattered throughout.
Upon closer inspection, the dots of light were computer screens, and hunched over the screens were men of all ages. Suddenly, the whole valley was bright as day as if someone flipped a cosmic light switch.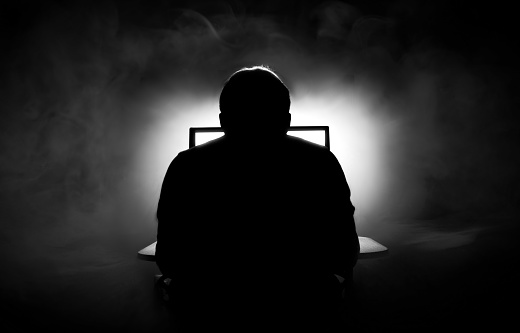 The hunched-over figures stood up and looked around and saw that they were not alone. I interpreted this as God telling me the way that I will work with men is by assisting them to connect with and help each other. Reflecting on this image I asked myself. How can I make this vision a reality?
First steps in helping young men
My first step was to create a website and start writing articles about how to help young men. Some you may find helpful include How to Help Your Depressed Son, or How to Connect with Your Depressed Son.
My second step is to start working directly with young men and their families. This phase of the plan will begin in 2021. In preparation, I have tailored my approach to suit the unique strengths and challenges of young men.
Do you have a young man in your life who is struggling with mental health challenges? If you have questions about how to help him or helpful advice for others, feel free to leave a comment below.
Keep In Touch
Enter your email below to get more content like this delivered straight to your inbox!